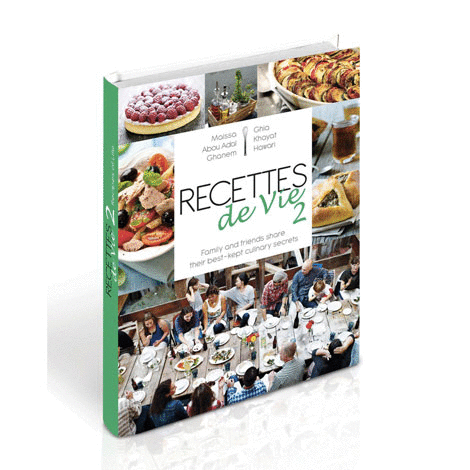 Recettes de Vie 2
By
Maissa Abou Adal Ghanem & Ghia Khayat Hawari
Price:
LBP 105,000 - USD 70*
(VAT included)
Recettes de Vie 2 (Recipes of Life) reveals family and friends' culinary secrets that have been passed down from generation to generation. Discover the hidden recipes of more than 200 'chefs' and embarkon an unforgettable culinary journey around the world.
All proceeds will bedistributed to charities
The success of Recettes de Vie in 2008 allowed us to help more than 20 charities. Once again,all proceeds from Recettes de Vie 2 will be distributed to non-political and non-religious organizations that defend the rights of women and children
Available in French & in English
www.recettesdevie.com
Find the book in:Librairie Alphabet, Jounieh • Librairie Antoine, Ashrafieh, Hamra and Sin el Fil • Librairie Orientale, Ashrafieh Librairie Stephan, Ashrafieh • Malik's, all bookshops, Aziz, Kantari and Zalka • AUB museum shop, Bliss street • Bulthaup store, Sin el Fil L'Artisan du Liban, Saifi and Clemenceau • La Mie Dorée, Sassine • Les Caves de Taillevent, Jardins de Tabaris, Aschrafieh Orthopedic and Sport Clinic (OSC), Kantari • Sel & Poivre, Sofil • The Studio, Beit Mery
*Beirut Bazar is not responsible should prices change or stock run out.