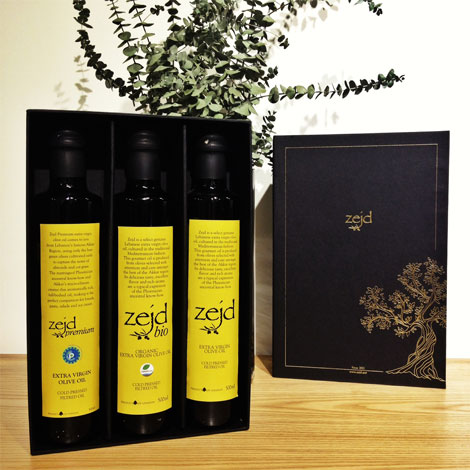 Extra Virgin Olive Oil
Price:
LBP 60,000 (set of 3) / USD 40*
(VAT included)
Gift box containing three 500 ml extra virgin olive oils different in fruitiness.
An organic bottle with a slight bitterness and a sweet spiciness that gives this Award winning olive oil blending scents of tomato
A floral bottle known for its scent of almonds and artichokes, a ripe fruity flavor and a mildly spicy finish.
A premium bottle characterized by a strong and intense taste, releasing aromas of fresh cut grass
Ikaryat Georges bldg, Mar Mitr St.Ashrafieh, Beirut, LebanonTel: +961 1 338 003
www.zejd.net
*Beirut Bazar is not responsible should prices change or stock run out.